Teresa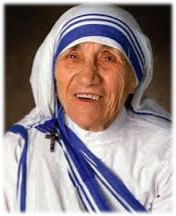 Mother Teresa was not, of course, born with that name. Her parents named her Agnes or Gonxha in her own language when she was born to them in Albania. Agnes was one of four children. Her childhood was a busy, ordinary one. When she turned 18, she felt that God was asking her to follow him. She listened and followed, joining a religious order called the Sisters of Loreto in Dublin, Ireland.
After two months in Ireland, spent mostly learning how to speak English, she got on a boat and 37 days later arrived in India. In India, Agnes took her final vows as a sister and took the name Teresa, after Thérèse of Lisieux. After 15 years spent teaching in a girl's school in Calcutta she heard that call again. The call was for her to leave her teaching position and go into the streets of Calcutta and care for the poor.
Teresa left the order and lived amongst the poor people. On her very first day among the poor of Calcutta, Mother Teresa started a school with five students for poor children. Within two years, Teresa had been joined by other women who were her former students. She was soon "Mother Teresa" because she was the head of a new religious order: the Missionaries of Charity.
The Missionaries of Charity tried to care for as many of the dying as they could. They converted a Hindu temple into a home for the dying. They brought all those who could not afford the hospital fees into their home for the dying where they were looked after with love. Mother Teresa died in 1997.