Spiritual and Community Life
In the Gospels, we read how Jesus gave the apostle Simon the name Peter and stated that 'on this rock I will build my church' - it is with this sturdy foundation that the church is built.
In the same way at St Peter's, we have chosen six rocks upon which our school is built:
Realise your potential - students should realise the call from God to strive for greatness
Be respectful - students should be respectful of themselves, others and the world they live in
Be responsible - students should be accountable for their actions and take responsibility gladly
Be reflective - students should learn from their mistakes and plan to do better
Be resolute - students should be firm about doing what is right
Be resilient - students should stay strong, bounce back and never give up
Through displaying these six rocks, students will live out the call to be 'Christ to all'.
Our approach is always based on raising awareness, prayer and practical action. Prayer is an essential part of school life and is fostered through tutor teams, assemblies, services of reconciliation and the greatest prayer of all, the Eucharist (also known as holy communion).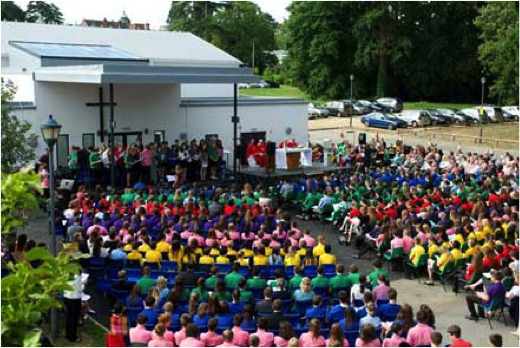 Practical action is a constant part of school life. The list below shows some examples of practical help but is by no means exhaustive:
Students annually participate in the Diocesan Pilgrimage to Lourdes
Year group Retreats
St Peter's is delighted to have been approved as a Fairtade school, complementing our partnership with CAFOD
Students generously volunteer for charitable work both at home and abroad, giving of their time and raising money
Sixth Form Rag Week