Science
Mr M Cartledge
Head of Science
The Team
| | |
| --- | --- |
| Mr B Rana | Teacher of Science (Chemistry) |
| Mr E Brewer | Head of Biology |
| Miss R Millais | Teacher of Science (Biology) (Maternity Leave) |
| Mrs S McLaughlin | Head of BTEC Science and Teacher of Science (Biology) (Maternity Leave) |
| Mrs A Coleman | Teacher of Science (Biology and Physics) |
| Miss F Brooks | Teacher of Science (Biology and Physics) and Assistant Headteacher |
| Mr D Woodhouse | Head of Chemistry |
| Miss T Byrne | Teacher of Science (Chemistry) |
| Mr J Paterson-Spir | Head of Physics |
| Mrs J Osborne | Teacher of Science (Biology) |
| Mrs C Cooper | Teacher of Science (Biology) |
| Mr J Lo | Teacher of Science (Physics) |
| Technical Team | |
| Mrs K Fewson | Science Technician (Chemistry) |
| Mrs M Barnes | Science Technician (Biology) |
| Mrs D Payne | Science Technician (Physics) |
Introduction to the Department
We seek to ensure that students experience a good balance of subject knowledge and understanding with the skills of scientific enquiry. This includes opportunities for students to engage in practical work, fieldwork, research, use of ICT, individual and group work, discussions, modelling and evaluation. Teachers also aim to make the teaching of science relevant to students' lives.
Science subjects are designed to provide students not only with a basic knowledge but also with a range of skills and ideas that will be of use in further and higher education and in their life as members of society. They will learn to recall relevant knowledge and to show understanding of basic facts, concepts and principles, using appropriate terminology. They will develop an understanding of the power and limitations of scientific ideas. They will be able to select, organise and present relevant information, and evaluate ideas in order to make informed judgements on the complex issues that appear in the media with increasing regularity.
Key Stage 3 Information
The aim of Key Stage 3 is to develop scientific knowledge and conceptual understanding through the specific disciplines of Biology, Chemistry and Physics. Throughout the key stage, they develop understanding of the nature, processes and methods of science through different types of science enquiries. This skill helps them to answer scientific questions about the world around them, which ensures they are then equipped with the scientific knowledge required to understand the uses and implications of science, today and for the future.
Students are taught four topics of each science in Year 7 and 8 and two topics of each in Year 9. Students then progress to start GCSE Science in January of Year 9.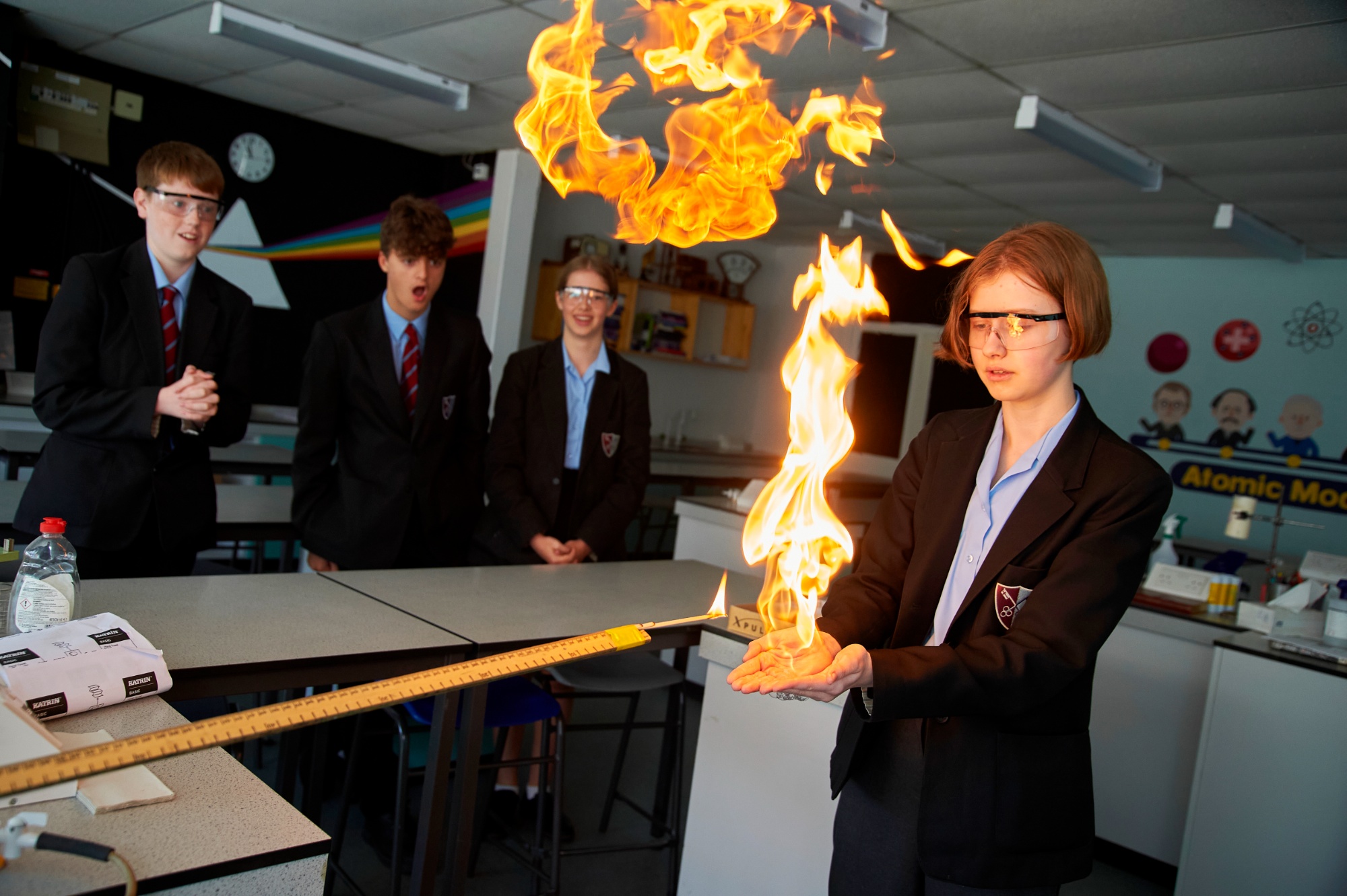 Key Stage 4 Information
Students study the AQA Science syllabus. The course builds on the concepts introduced during Key Stage 3, developing and inspiring future scientists whilst providing a good scientific grounding for future study.
Students will either take 'Combined Science: Trilogy' which is two science GCSEs that are an average of exam scores in Biology, Chemistry and Physics, or three separate science GCSEs if they are in the top set. Setting will be finalised using the end of year 9 science assessment. All students will be taught by three teachers specialising in Biology, Chemistry and Physics.
Every student will take six exams in Year 11, two for each science, and students are required to complete a series of practical tasks through the teaching course. 15% of the marks asked in the exam papers will draw upon and analyse the learning experiences of these practical tasks. This is to ensure that all of the students have benefited from the learning opportunities of a number of core practical activities and is a requirement of the new specification.