Chaplaincy
The Chaplaincy at St Peter's is a key part of fulfilling the school's mission; to be 'Christ to All'. The Chaplaincy Team is here to support staff, students and their families to engage with the Catholic ethos of the school.
Students are encouraged and challenged over their time at St Peter's to engage with their faith through acts of individual and collective worship. These take place each day in registration, through weekly assemblies, over the year with a number of opportunities for Mass and through a Reconciliation Service. Every student is offered times of reflection or retreat over their time at St Peter's and all these opportunities extend to our Sixth Form.
Chaplain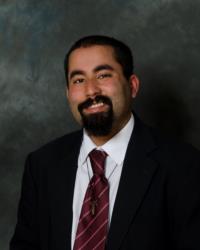 Kevin Mendes is our full time Chaplain at St Peter's. His role is varied and this can include leading assemblies, organising masses, being a visible presence around the school, preparing resources to use in prayers and liturgies, supporting staff in leading times of prayer, offering reflection days and retreats, supporting students and staff during difficult times and creating a space of reflection in the Chapel which all students can use.

Kevin is available to support all students in any pastoral need from bereavement to friendship troubles as well as any spiritual development needs. If you feel your child would benefit from speaking to the Chaplain, please get in touch with him by phone: 01483 534654 or email: kmendes@st-peters.surrey.sch.uk.

Mass
Students will attend two Masses each academic year with their year group, one with their tutor group and a whole school Mass on Feast Day.
The Chapel
The Chapel is just off the Dining Hall and is a safe and comfortable space for students and staff to use. Students are encouraged to visit the Chapel for times of reflection before school, during break and lunch. The Chapel is also used for times of spiritual direction, lessons, reconciliation and Mass.
Extraordinary Ministers of Holy Communion
In Year 11, students are invited to become an Extraordinary Minister of Holy Communion. This important ministry is integral to the life of the school. These students minister at Masses over the school year.
Altar Servers
Students are invited to Altar Serve at Masses at school. They are responsible for helping the Priest at the Altar. Students who would like to take on this role are welcome to see Kevin - no experience is necessary.
Chaplaincy Crew/Chaplaincy Core Team
The Chaplaincy Crew was created in October 2015 to give students the opportunity to live out the call to be 'Christ to all'. We promote values of community, friendship, service, love, care and generosity.

The Chaplaincy Crew runs monthly activities for students to participate in and supports in the work of the Chaplaincy team.