St Peter's Students Celebrate Their Amazing GCSE Results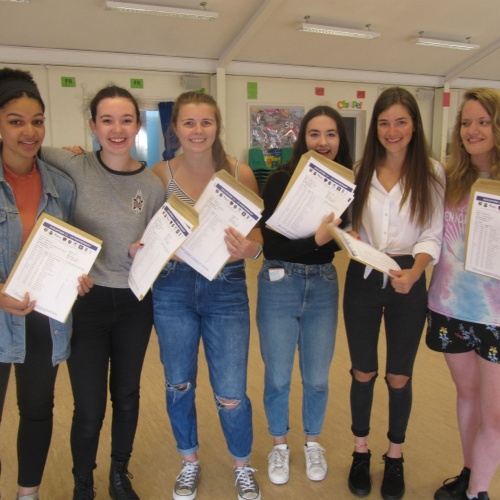 There were smiles and cheers at St Peter's this morning as GCSE envelopes were opened and our students celebrated some fantastic results.
Two years of hard work and perseverance through a period of significant change and volatility in curriculum and grading structure paid off with many students achieving the very highest grades. The change in the grading system for English and Maths saw 85% of our students achieve a grade 4 or above in both subjects, highlights being 10% of the cohort achieving the new grade 9 in maths and 14% achieving it in English Literature. Over 46% of all grades were A*/A or grade 7 plus.
There are many individual performances to celebrate but special mention should go to the following who achieved A*/A or 8/9 in every subject: Jess Austin, Ottilie Cullen, Tiago Ferreira, Michael Galvin, Evelyn Gardner, Edward Hagen, Fay Humphries, Natalia Kuras-McKelvey, Finlay McManus, Emmet Meehan, Hattie Owen, Amelia Schumacher, Jaya Shajpal, Lauren Taylor, Jo Harwood and Cormac Stancombe. Of particular note is Jess Austin who achieved three grade 9's and six A*'s – a phenomenal achievement. Additional students who achieved very high results include: Charlotte Browning, Mollie Ingham, Naya Toumpeki, Annabel Morton and Patryk Malinowski.
There were many other examples of individual performance where significant progress was made from where students started in Year 7. Students who made the most progress since starting at St Peter's include Patryk Malinowski, Anna Mastramarco, Becky Gumbiti-Zimuto, Alicia Naisby, Jacob Elton and Amber Penter. They averaged two grades higher than they were targeted and it is a credit to their high levels of effort and resilience that they made such wonderful progress and shows how belief in oneself and trust in those around you can do.
Mr Toby Miller, Headteacher said "I take my hat off to each and every student. They worked incredibly hard through two years of real uncertainty about the grading structure in maths and English and a general period of instability with new curricula. Our students are amazing and as ever rose to the challenge and we are all immensely proud of them. I would also like to thank our staff who supported all of our students and 'lived' through all of the challenges alongside them. Their dedication and professionalism is a major asset to our school and they are our greatest resource. Congratulations to all students and we wish them all the best in their future studies and careers."
Click here for the performance table.