Students learn about Hinduism
St Peter's Year 7 students had a day visit to the Hindu Mandir in Neasden, West London. As part of studying world religions in the RE curriculum, we have been focusing on Hinduism and this opportunity to see faith in action was thoroughly enjoyed by students and teachers alike. In studying Hinduism we really are meeting God in friend and stranger. The Year 7 students attended with interest and respect, meeting Jesus' call to 'love your neighbour'.
Despite problems with traffic, the students arrived at the Mandir in good spirits and excited to see such an amazing sacred space. Whilst at the Mandir, we had the pleasure of witnessing a Hindu act of worship in an Arti ceremony, within the highly decorative Mandir. In addition, we watched a film about the making of the Mandir and had a question and answer discussion with a Hindu in one of the halls.
Here are some comments from students and staff:
"Visiting the Mandir gives me a deeper understanding of people's beliefs." Camille
"I learnt what an Arti ceremony is like. The Mandir is made of marble and represents peace." Luke
"I noticed that Hindus do many different things in worship: sitting, lying on the floor or standing. I think it's important because we get to see what they do and it's really interesting." Amy
Mr Dell, Head of RE, said "Our students were excellent ambassadors for the school, staff at the Mandir commented on the high standard of behaviour. These visits to places of worship are important to do as they prepare our pupils for life in modern Britain, giving them an understanding of the beliefs of others."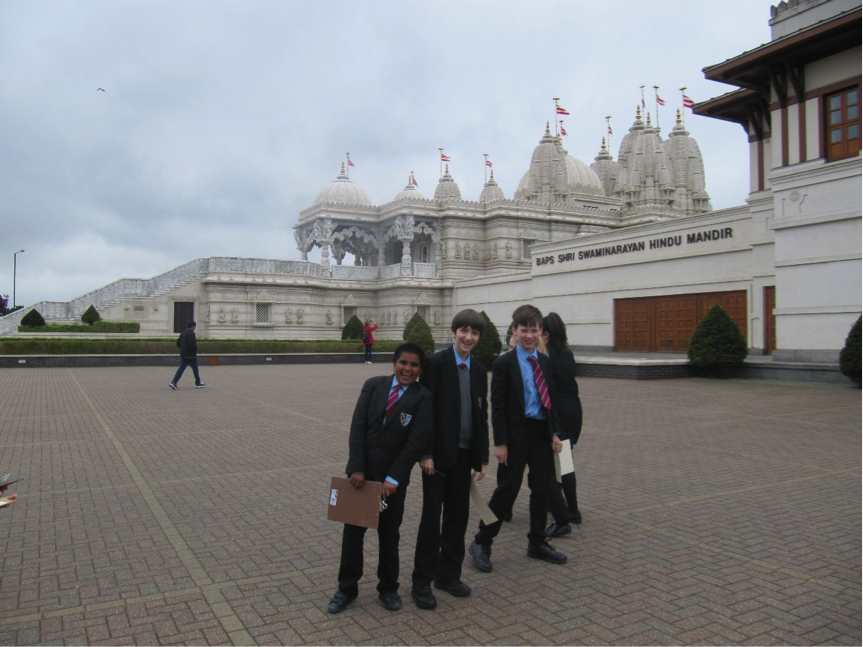 Picture: Students outside the Mandir
All Catholic schools are required to teach about other religions as part of the Religious Education curriculum. Learning about the religion and cultures of those who do not share the Catholic faith is one of the ways in which Catholic schools embody the call to love one's neighbour. It is required by our Bishops, who state that the Catholic nature of our schools entails "a willingness… to try to understand better the religion of one's neighbours, and to experience something of their religious life and culture."