Students learn about Islam in visit to Mosque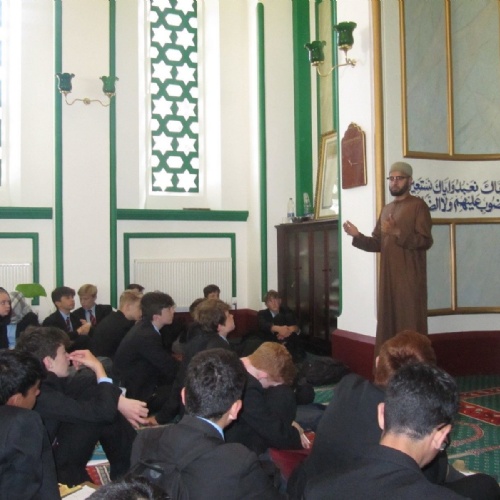 Year 9 recently visited Shah Jahan Mosque in Woking. The visit was organised by the RE Department to enhance the learning of Islam, which is currently being studied by Year 9 students. The visit was of additional importance in preparing students for their RE GCSE, in which Islam is studied as a second religion.
We were met by Shaykh Naveed Arif (Head of Education at Shah Jahan Mosque) and Mohammed Habib (Manager of Shah Jahan Mosque) who gave an informative talk on the history of the mosque and key aspects of Islam, in particular the five pillars of Islam. They highlighted the origins of beliefs in Islam and helped students appreciate connections between Christianity and Islam.
During the visit students visited the male prayer hall and the main mosque. They learnt about the features of the mosque and one group was able to observe the midday prayers. Students had the opportunity to ask questions about Islam and our guides helped to dispel some common misunderstandings about the religion. For example, they explained how certain passages in the Qur'an have been taken out of context by some and misused. Many students commented that they learnt a lot during the visit and wished they could have stayed for longer.