Kindertransport Memorial Quilts Travelling Exhibition – Open Afternoon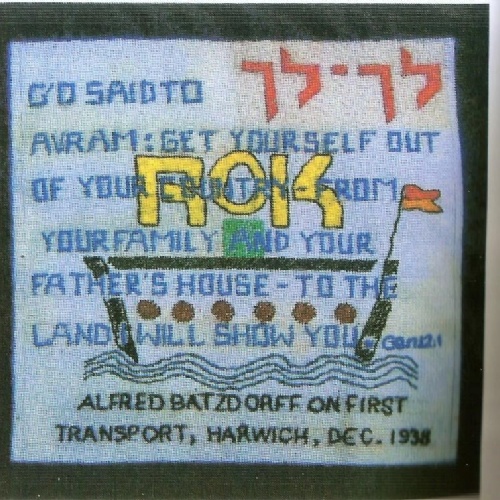 Please visit us with your family
Sunday 30th April
1:30 pm – 4:00 pm
North West Surrey Synagogue, Horvath Close, Rosslyn Park, Weybridge, Surrey KT13 9QZ
The Kindertransport Memorial Quilts Travelling Exhibition will be on display for the first time in the UK on loan from the Holocaust Memorial Center, Zekelman Family Campus of Farmington Hills, Michigan
The Kindertransport Quilts are a form of folk art. Each square expresses its creator's view of the Kindertransport experience: pictures of the past, fears and nightmares, memorials to lost family. They express traumatic childhood experiences, as recalled with the perspective of maturity. The panels of the quilts show a great variety of expressions.
We shall also have on display several original drawings and paintings by an amateur artist, Fiona Knox. Fiona has done extensive research about the Holocaust and has captured her thoughts and images in an impressive series of haunting pieces of art.
Pre-Registration Essential: if you would like to visit, then please email the full names of all attendees together with the name of the associated school to alangallant@msn.com with the Subject Heading: NWSS Open Afternoon. Please note - we are unable to accommodate "drop-ins" on the day.