Year 8 Trip to the Synagogue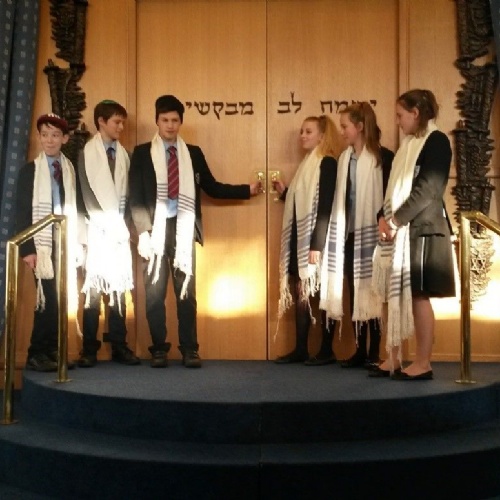 In a special part of our Religious Education curriculum we study a number of world religions. It is an important aspect of preparing for life in British society, a society that is multi-faith. In Year 8 we study Judaism and to supplement the classroom based learning we recently visited the North West Surrey Synagogue (a Jewish place of worship).
The visit involved a rotation of students throughout the day and included a tour of the building, a talk from a member of the Jewish community and time for questions and answers. We were also lucky enough to have volunteers from the synagogue show us some exquisite artefacts. In each of the sessions some of the students got to dress in Jewish prayer shawls and kippahs (head coverings), and both boys and girls opened the doors of the Ark of the Covenant to reveal the dressed Torah scrolls. Two students were given the opportunity to help 'undress' the Torah and all students could see the hard work that goes into creating these handwritten religious texts.
The highlight for many students was when some were given the opportunity to try to make a sound from the Shofar, a ram's horn used in Jewish ceremonies to mark Rosh Hashanah.