Year 10 student wins international foreign language poetry competition in Chinese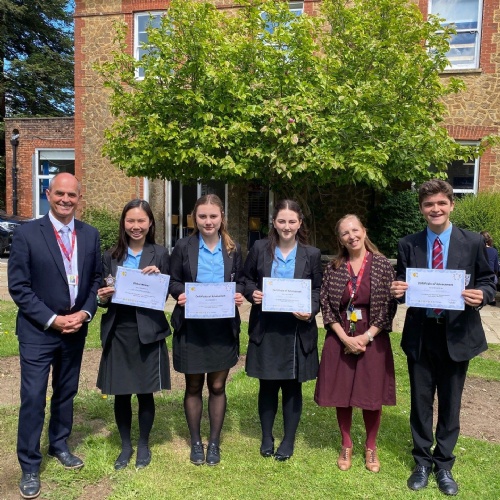 We are delighted to announce that Karissa in Year 10 has won the year group entry of the international 'Poésíæ' foreign language poetry competition in Chinese, outperforming fellow students from around 250 schools, all over the globe.
Coached and encouraged by Mrs Mortimer, Head of Spanish, a number of St Peter's students took up the challenge and did very well. Walking past the Spanish classroom in the lead up to the competition deadline, it was not unusual to hear pupils from Years 9 and 10 practising and reciting poetry in the Spanish language, something that is outside the normal curriculum but a wonderful and novel way of developing the love of languages.
Congratulations to:
Karissa (Year 10) who entered for both the Chinese and Spanish contests and won first prize in the Chinese competition.
Joe (Year 13) who wrote and recited his own poem in Spanish.
Izzy, Connor and Roksana from Year 9 practised and entered for the Spanish poems' competition.
Poésíæ started as an annual French poem recitation competition in Packwood Haugh School in Shropshire and, due to the pandemic, the school thought it would be a good idea to expand the competition to a few more schools to spread the love of foreign languages.
In 2022, three more languages were added to the contest: Italian, Welsh and English as a foreign language and there are participants from all over the world including North and South America, Africa, Indonesia and Australia among others.
More information about the competition can be found here: https://www.poesiae.com
Many congratulations and well done to everyone!
Mrs Mortimer
Teacher of Modern Foreign Languages