Make sure that you choose a subject you enjoy when you apply to university!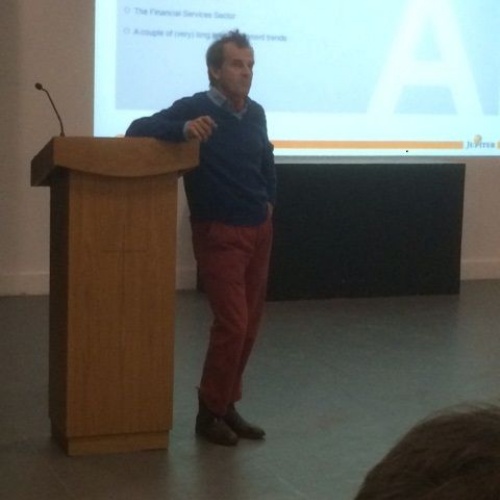 This was the message to St Peter's Sixth Form students from Edward Bonham Carter, Vice Chairman of Jupiter Investments. Your degree does not have to be in Maths or Economics (though this can be helpful) to work in the financial sector, and just as important, is the quality and excellence of your thinking and presentation skills.
Edward learnt his profession from the 'ground up', starting his career at Schroders, followed by 8 years at Electra Investment Trust, and then joined Jupiter on an investments programme in 1994. As well as his job as Vice Chairman at Jupiter, he also has other directorships and trusteeships, including being a Trustee of the Orchestra of the Age of Enlightenment Trust! Edward's sister is the actress Helena Bonham Carter CBE and he is married to presenter Victoria Studd.
2.2 million people work across the UK in financial and related professional services. These professions include areas like insurance, banking, legal services, management consultancy, accounting services, fund management and securities.
Edward explained to students how an investments company works – being entrusted with peoples' savings which are invested in the stock market for hopefully a higher return. He explained how markets are volatile but how investors need to look long term for favourable returns. Part of London's competitive advantage in financial services is derived from its timezone, because the business day of London overlaps with those of other global financial markets.
Responding to a Sixth Former's question as to how Brexit would affect the future of the financial services sector, Edward commented that whilst it poses a threat to the industry, he remains optimistic. Depending on the deal that the Government makes with the EU, some companies may relocate to other countries which remain in the EU, but there are lots of advantages for remaining in the UK.