St Peter's student makes England Chess Team!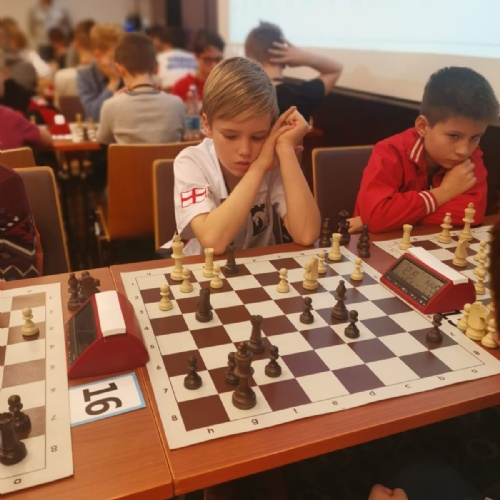 Congratulations to Adam (8ST) who was selected to play for England at the European Youth Chess Championships in Tallinn Estonia.
More than 650 boys and girls from 28 European countries competed in six age categories up to U18s. Adam out-performed his international rating and was the top scoring England player in his age group.
Adam said "I started playing chess at school in Year 3, it's fun to play and I've continued to learn and improve. I was really excited to play for England and to be given my England team shirt. The competition itself was three days of non-stop action, there was an individual competition, a team competition and finally a blitz competition – which was 9 fast games played over 4 hours. The tournament had really good players from all over Europe and especially from Eastern Europe and Russia. In the tournament I beat some highly rated players and drew with one of last year's winners. My favourite event was the team competition, each team has 4 players and it was fun to play together against teams from different countries. It was great making new friends and I can't wait to go again!"
Mr Miller, Headteacher stated "We are immensely proud of Adam's success in these championships and look forward to hearing about his next challenge!"
If you are feeling inspired by Adam's achievements, come along on Monday lunchtime to our Chess Club - it is open to all students from beginners to the advanced level.