GB Champions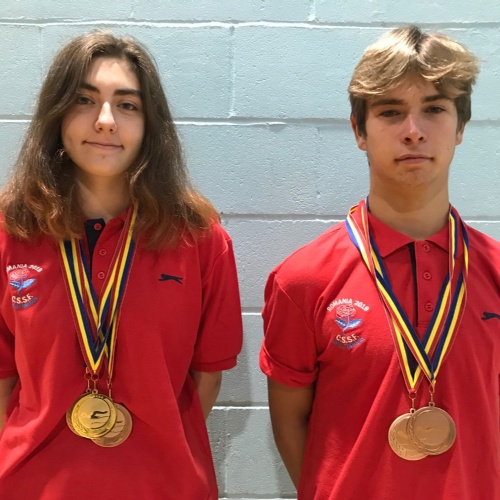 Congratulations to Elizabeth and Nathan who both represented GB over the summer in the Catholic School Games in Romania.
Please read their personal accounts regarding their amazing experience:
Elizabeth
It has been quite a few weeks since my participation in the FISEC / FICEP games and reflecting back on it I realise what a fantastic time it has been.
For starters there were 14 countries across various sport disciplines for a total of over 600 participants all aged between 14 and 17, which made the opening ceremony one of the biggest parties I have ever been to! Having only been in Romania for a day and a half, no one really knew each other even within the teams of each country. Initially we were all a bit lost, but when we were warmly encouraged by the organisers to get up from our seats and start dancing, all of these uncomfortable emotions vanished, and we all started to make new friends. Nothing really mattered anymore from your native language to your favourite food; we were all just kids excited of the idea of a brand new experience.
Throughout the week everyone learnt how to blend in into the new Romanian culture. We learnt to cope with some logistical nightmares and some unfamiliar recipes whilst having to train and compete at a very high standard: after all we were there to represent our country! We were not prepared to let anybody down: families, coaches, schools.
This was my first time ever representing GB and this made me feel excited yet very nervous. I was simply ecstatic when the coaches told me I had won gold in the 50 metres backstroke. When I went to collect the medal wearing the GB flag I realised that was not only my medal but it was my team's, my school's and my country's medal. What an amazing feeling.
In my opinion if anyone were to get an opportunity like this, they should not think twice about it: it is a great opportunity of making friends for life whilst learning real things about yourself.
Nathan:
I have been swimming with Guildford City Swimming club since 8 years old in their high performance squad.
Although I have competed at the L1 Surrey, SE Regional and National Swimming Championships I feel that my greatest accomplishment to date has been representing GB at the FISEC International Games in the 50m fly, front crawl, 100m fly, front crawl and both front crawl and IM relay events .
The experience was amazing but challenging as well as the events were swum in an open age group against other children who were 17 years old. I was pleased to have made the fly finals and being part of the GB relay teams who won bronze for both events and the GB boys team came third overall.
Representing your country is a great privilege, but meeting and making new friends from all over the world in an international sporting event was the best.