A Level Results Success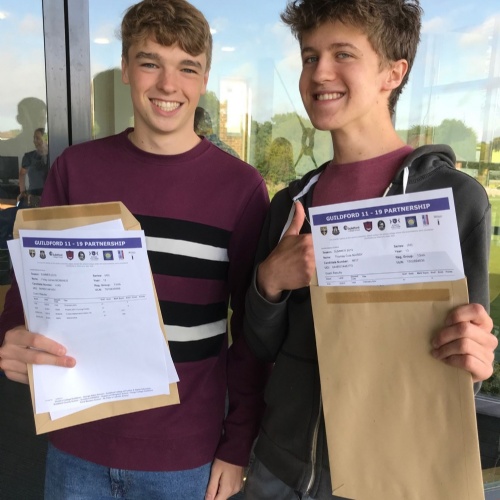 There were cheers and tears of joy as students opened their A level results at School this morning. As a year group, almost half of results achieved are A or A* and 66% of all results were A* to B, which is a wonderful achievement for the students at St Peter's Catholic School. These achievements are a credit to the hard work and determination of the students and we are very proud of them.
A special mention should go to Finn McManus with 4 A* grades and is going to study Chemical Physics, and Charlotte Browning with 3 A*s. Other students who achieved exceptional grades are: Nadia Fernandes, Alice Harrison, Joe Harwood, Victoria Archer, Gemma Pearce, Caitlin Gillard, Sam Marshall, Amber Penter, Will Preston, Cameron Taylor, John Taylor, Char Terry, Nick Thorn, Ella Wood, Sam Wyles and Isabella Hillery. Nearly all of our students have accepted their university offers, with students going to study medicine, veterinary, engineering, English literature, geography, computer science, marine biology, accountancy, psychology and paramedic science to name a few. We are incredibly proud of all of our students.
Within the joy of these results, there are many stories, where students have overcome adversity or personal challenges which make the accomplishment even more special. We are so grateful for all the hard work and effort that has gone into supporting, encouraging and nurturing the students from the staff and the endless support that the parents have given their young people and the school. It is exciting to see them leave St Peter's and start a new chapter. We wish them all the best for the future.