Warmest welcome for our Spanish exchange trip students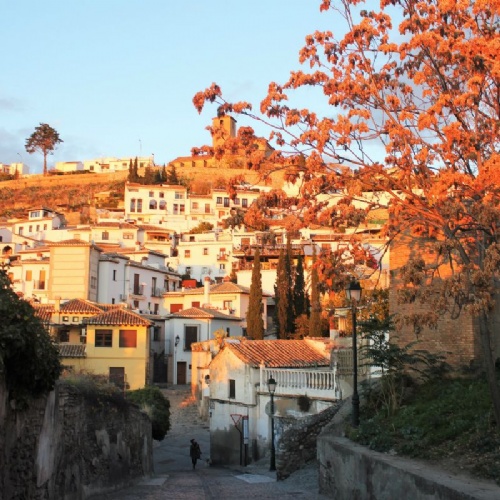 16 lucky Year 10 Spanish students accompanied by Mrs Mortimer and Mr Prats travelled to sunny southern Spain at the end of January 2019 to take part in the third successful exchange with The Cristo De La Yedra School in Granada.
The group of girls and boys were fully immersed in Spanish language, culture, study and family life and took part in a varied programme of organised cultural activities over six days. This ranged from a fantastic visit to the Alhambra Palace, the Cartuja Monastery, The Science Park, The Palaeolithic Caves in Nerja (Malaga) and Granada's bullring where they learned about its history.
The host Spanish families were very welcoming and also took our students to a whole range of additional activities in the evenings and the weekend. Activities included ice skating, shopping, visiting Malaga city and taking part in the local festival of St Cecilio where the locals enjoyed their folklore and lovely dances whilst on religious pilgrimage.
Our students really enjoyed the cultural exchange with the Spanish students and their families and they had the important chance to improve their Spanish skills too.
Our Spanish host students will be coming to England from 12th-18th March 2019 and will visit London, Brighton Pier and The Lanes. Let's hope the sun shines for them!