Guildford Air Cadets - new recruit intake - 23rd January 2019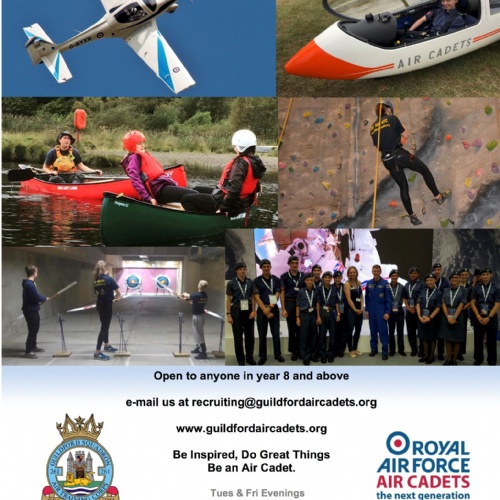 If you are in Year 8 or above and would like to start the New Year with something exciting and different, the Guildford Air Cadets could be for you.
The Air Cadets is a voluntary uniformed youth organisation supported by the Royal Air Force. It provides valuable skills, training and personal development for young men and women aged 12 (and in Year 8) to 20 (although you must join before your 17th birthday).
261 (Guildford) Squadron is one of nearly 1,000 Air Cadet units across the UK.
As a member of our squadron, there are many activities to participate in including flying, shooting, sports, camping, and support to gain a Duke of Edinburgh award. Our core training also includes recognised qualifications in aviation and leadership.
The Squadron is holding its next recruit intake evening on 23rd January. To find out more and register to join, please go to their website at https://guildfordaircadets.org
Please do not hesitate to contact Andy Brittain recruiting@guildfordaircadets.org with any of your questions.