Students Celebrate Excellent GCSE Results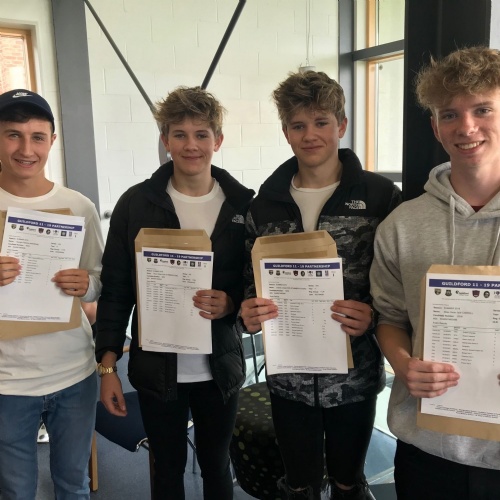 Students were celebrating wonderful results as they opened their GCSE envelopes this morning at St Peter's. Despite this being the first year for many subjects under new specifications and a new grading system the dedication and resilience really paid off. Improvements in core subjects saw 71% of students achieve a grade 5 or above in English and Maths and 88% achieve a grade 4 or above in English and Maths.
Our teachers embraced the changes to specifications which have become considerably harder with some students sitting nearly 30 exams this year. We'd like to congratulate all students on their success and also their parent's for the support during the last two years. Headteacher, Toby Miller said "I am in awe of the focus and positive attitude the students gave to their exams this year. There is so much uncertainty when new courses and specifications start as there are so few resources to use in preparing the students but they came through and should be very proud of themselves. I'd like to thank all of our staff at St Peter's for their endless caring and support for every student."
There are many students who achieved excellent grades including those who achieved 8 or more grades at 7-9 level: Sofia De Faria, Charlie Dyer, Jack Franks, Georgia Hughes-Evans, Tom Coleman, Fionnuala Jabbur, Tomek Jakubowski, Hannah Baidya, Charlie Bewsey, Louis Black, Eleanour Brown, Adam Carr, William Clark, Sam Cook, Ashleigh Reed, George Ringrose, Katie Sadler, Will Sampson, Sophie Saunders, Veronika Sendor, Hannah Skwarska, Zuzia Squires, Jesse Wright, Conner Lappage, Charlie Lidbury, Katie Madle, Abi Nichol, Ines Noguera, Aidan O'Kane, Sofia Pearson, Becca Phillips and Andras Podolyak. Top five students in terms of the progress made during their time at St Peter's include: Ollie Ede-Stammers, Georgia Hughes-Evans, Charlie Ede-Stammers, Taryll Miranda and Nicole Osrin.