Linden Homes open their doors to St Peter's Year 8 students, to inspire them about  careers in the construction and property sectors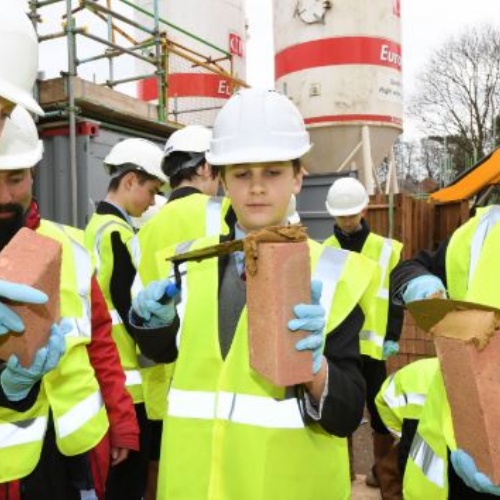 17 Year 8 students were treated to a very inspiring insight into the work going on at Linden Homes' Wellington Grove site in Merrow, followed by presentations to the students from the Managing Director, Department Directors and Management Trainees, with plenty of questions asked by students and note-taking!
Linden Homes provided an opportunity for students to get 'hands on' with a competitive bricklaying activity! Some walls developed faster than others, but some stayed up longer than others!
Philip Chapman, Managing Director for Linden Homes South commented "We employ people with a range of skills to deliver our homes. From our land buying team, design, marketing and sales and of course construction, there are a wide range of careers available. We have specialists overseeing every different stage of the building project and we hope our Open Doors event has shown young people what a company like Linden Homes is all about – and shed light on the various professions that are involved."
Mrs Thompson, St Peter's Careers Co-ordinator added "We are most grateful to Philip and his staff at Linden Homes who have given our Year 8s such an inspirational insight into their sector, helping the students to learn about career entry routes, progression routes and transferable skills which relate to careers in construction and property."