Paul Carr from CISCO asks our Sixth Formers 'what do you want to be remembered for?'
Having set out to work as a professional footballer, an injury necessitated a backup career idea, and Paul Carr joined the IT sector. He became a Data Clerk for two years, worked in the US and studied for his degree there, and then lived in a number of countries including Hong Kong and Saudi Arabia, before studying for his MBA.
He now works for CISCO, the biggest networking company in the world, as one of their directors, responsible for over 100 members of staff and travelling extensively. Back in his school days, his IT teacher advised him not to consider a career in IT!
The day begins at CISCO with staff chatting to each other in the coffee areas between countries using video-conferencing, speaking to staff from different countries each day! Meetings with staff in other countries are held around one table with 'virtual' staff sharing a half of the table. Paul mentioned that on one occasion, a pencil rolled off the table on the 'virtual' side of the table, and a member of UK staff tried to pick it up for them! This is how real the experience feels.
Another exciting development at CISCO is holographic video-conferencing, where staff from other countries will 'appear' on the same stage as staff at a UK location. This technology, Paul explained, has already lead to some major fashion stores offering the opportunity of trying on clothes in a changing room 'virtually', with a 360 degree view!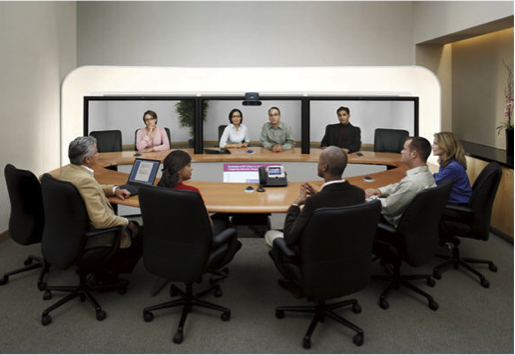 Paul explained to St Peter's Sixth Formers about the culture at CISCO, of nurturing talent - people with ideas and solutions. They employ people because of their character, looking for passion, ambition and drive. A question Paul asks at interview is 'what do you want to be remembered for?' CISCO provide a number of different entry routes into careers with their company, including a graduate scheme and the opportunity to join as a school leaver in various roles.