St Peter's Annual Theology Lecture a Great Success!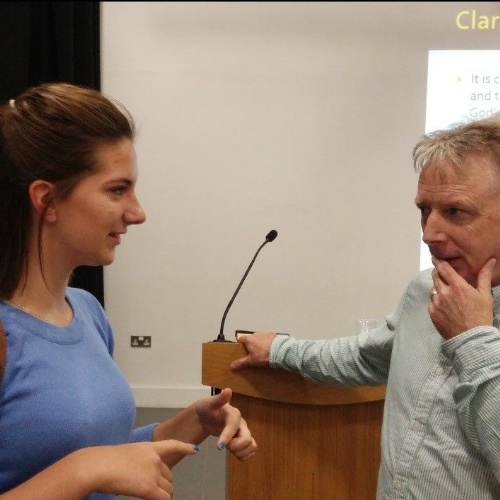 Dr Anthony Towey from St Mary's University gave our annual Theology Lecture on the Bible as a source of authority. We were particularly pleased that Dr Towey agreed to give the lecture as he was directly involved in the recent changes to the A Level specifications. Over 100 people attended, a mixture of A Level Religious Studies students from St Peter's as well as from other local schools, parents and staff.
Dr Towey's lecture was particularly relevant to those taking Religious Studies A Level. He outlined how the Bible is misunderstood when it is read literally. He went on to explain that there is confusion around the status of the Bible; on one side there is divine inspiration and on the other side the human dimension, which creates a tension around how scripture can be interpreted. Dr Towey explored this tension, concluding that Catholics cannot be literalists and how theology is a 'live' activity; the task of interpreting the Bible continues. The stimulating lecture ended with a flurry of questions from students on a range of points raised in the lecture.
Dr Towey is currently Director of the Aquinas Centre for Theological Literacy at St Mary's University, Twickenham. He lectured in Rome, Durham and Birmingham before leading the RE Department at Loreto College, Moss Side. He is an Ofqual subject specialist and has assisted in the shaping of the religious education reforms at A Level and in particular by developing new specifications and resources at GCSE with AQA and Eduqas. His recent publications include 'An Introduction to Christian Theology' (2013) published by Bloomsbury, as well as co-author of 'The New GCSE Religious Studies Course for Catholic Schools' (2016) published by Redemptoris.
Mr Dell, Head of RE, said "Dr Towey provoked students to think differently about the Bible and it resulted in some very stimulating questions."
A Level Religious Studies is a popular choice at St Peter's Sixth Form and a number of our students go on to study Theology, Religious Studies or Philosophy at university.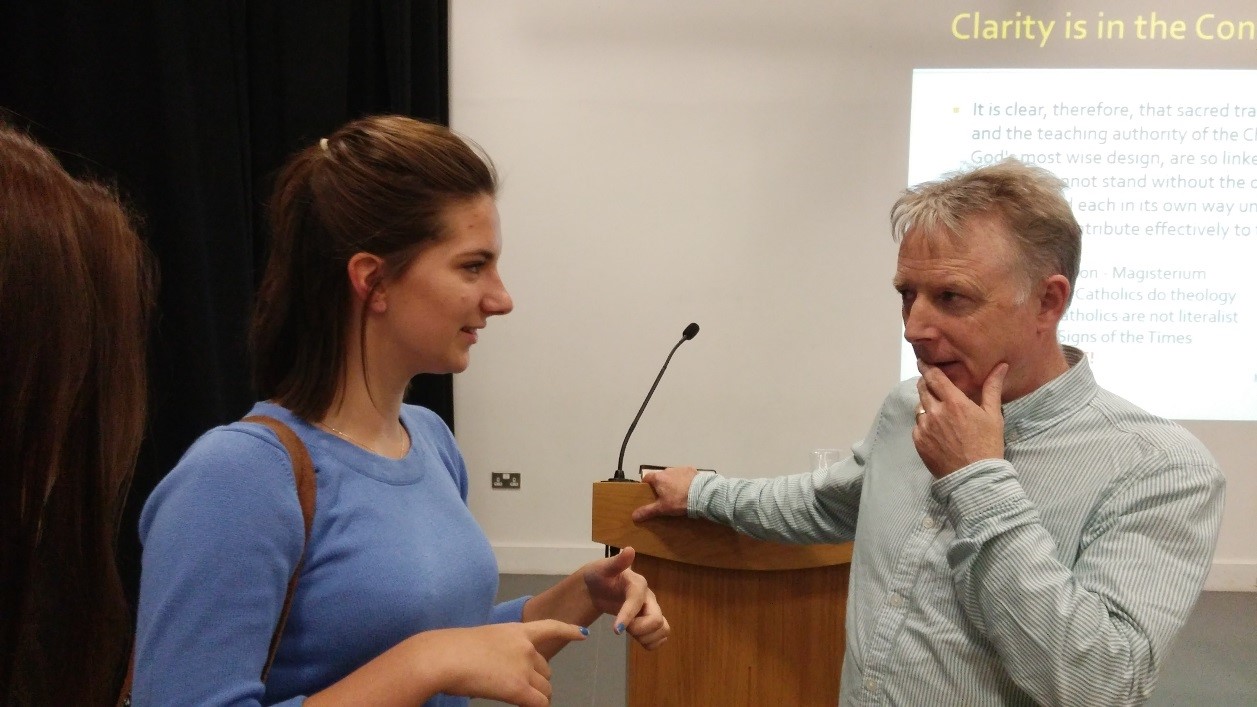 Picture: Dr Towey speaking to Sixth Form student in St Cecilia's Theatre and Liturgy Space